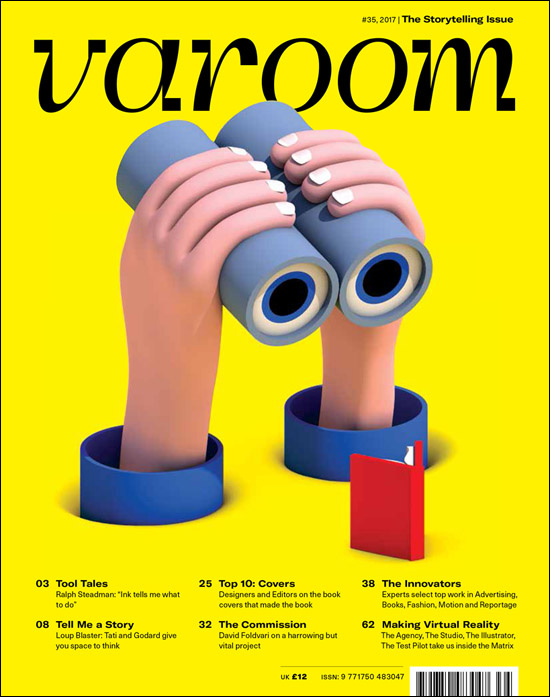 varoom 35 – the storytelling issue
Winter 2017 
Cover image by Jack Sachs
Purchase here
Packed with rich imagery and insightful comment, Varoom the illustration magazine re-launches in February 2017 with a fresh new design in magazine format from award winning new designers James Lunn and Joe Hales. John O'Reilly's considered editorship ensures the same great content appealing to illustrators and designers. This February's edition explores Storytelling. 
Varoom continues to be packed with beautiful and surprising images, and alongside major articles (this issue on Virtual Reality), Industry Innovators are selected from the areas of Motion, Fashion, Advertising, Children's books, Public Realm and Reportage by experts in their fields, who report on the recent work they identify as being the best in their area. Helping to make Varoom the essential publication for those interested in illustration and the visual arts.
FEATURED IN THIS ISSUE:
Tool Tales
You know how you feel when you don't have the pencil, the paper, the brush? The tools we work withshape our sense of who we are and how we feel when creating. Varoom asks Ralph Steadman, Felt Mistressand Pavneet Sembhihow their tools shape their storytelling and imagination.
Tell Me A Story
Storytelling is at the heart of illustration, but what inspires image-makes to tell stories? And what are the key elements of storytelling. Varoom asked Julian Glander,Huntley Muir, Isol andLoup Blaster to tell us the story of their story-making.
Top 10: Cover Stories
We mightn't judge a book by its cover but we often remember a book by its cover. Great illustrated book covers frame our reading, creating a unique ecology of story- teller, image-maker and reader. For our Top 10, designers and editors select the cover image that shaped their experience of the book in profound or surprising ways.
The Commission, The Client, The Creative
In the professional relationship between client and image-maker, nailing the brief depends on everything from the client choosing the right creative for the job in the first place to the image-maker responding to feedback. Simon Edmunds, Digital Media Manager at Save the Children and illustratorDavid Foldvari.
Innovators
Innovators are selected from the areas of illustration by experts in their fields. In Motion,Shane Walter discusses Nexus'  360? mobile VR short Rain or Shine; in Children's Books Sarah McIntyre reviews Rob Davis' The Can Opener's Daughter; Derek Brazell selects Melanie Reim's drawings from the USA election in Reportage; in Public Realm Luise Vormittagselects Rebecca Davies' Oasis Social Club; Stuart Lang discusses Pietari Posti's Canderel's campaign in Advertisement, and in Fashion Zoe Taylor talks to Marie Jacotey about her illustrations for McQueen.
A Maker's Guide: Storytelling Virtual Reality
Peter Lyle puts the current buzz around VR into perspective and asks pioneers in the field to share their insight into a medium that may change our experience of storytelling and the commerce that relies on it. Interviews with Swiss Design studio Apelab, drawing tutor Roderick Mills, Chris O'ReillyCEO of Nexus Productions and illustrator Jan Rothuizen.
Storytelling Roundtable
An insightful discussion on the changing forms of storytelling with Pen Mendonca, an illustrator and graphic facilitator who helps communities and policy-makers tell their stories through narrative visualisations;Olivia Ahmad, curator at the House of Illustration who in the two years since its opening has helped to transform the public story of illustration, and illustrator/animatorJack Sachs whose original approach and use of new technology has drawn prestigious clients such as the Tate to his door. Moderated by Varoom editor John O'Reilly.
Varoom 35 Storytelling is available from good book stores and the AOI Shop.