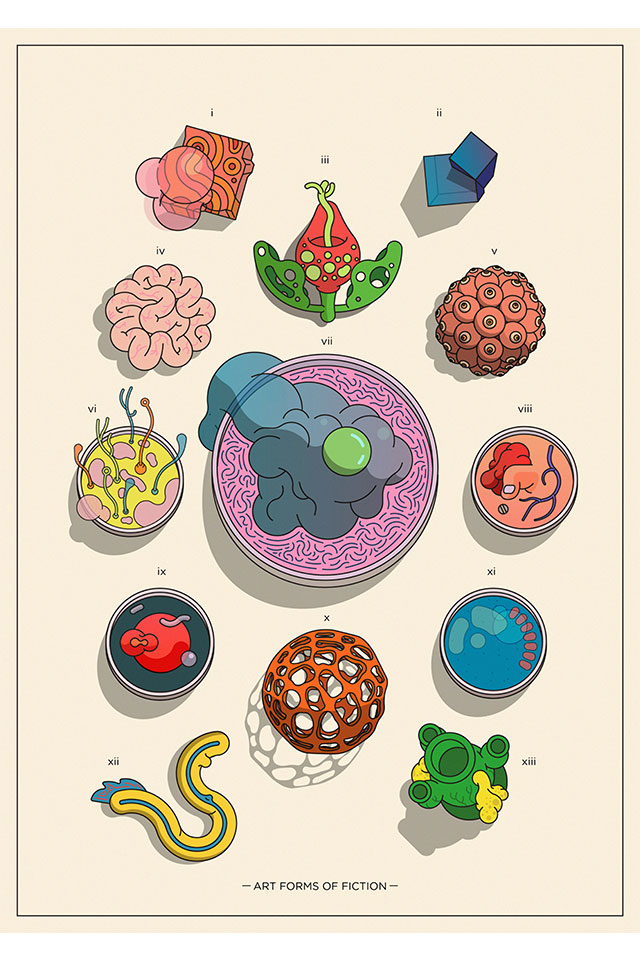 We are very proud to announce that BloodBros, AKA Emile Holmewood, has won the Barbican and Wrap Magazine's print competition with his poster, 'Art Forms of Fiction'!
The competition was announced in the lead up to the Barbican's major upcoming exhibition, 'Into the Unknown: A Journey through Science Fiction,' opening in June. The exhibition is an exploration of one of popular culture's most celebrated genres, which spans film, music, literature and contemporary art, and will 'present a new, global perspective on Science Fiction'.
Emile says, 'I've taken inspiration from Ernst Haeckel's 'Art Forms of Nature', creating a specimen sheet of sci-fi related themes: i: 'Host' ii: 'Rock' iii: 'Flora' iv: 'Intelligence' v: 'Mother' vi: 'Bubblegum' vii: 'Slime' viii: 'mutation' ix: 'A.I.' x: 'Sea life' xi: 'light/reflection' xii: 'Alien life' xiii: 'sound'. In several cases the specimens draw influence from specific movies/books.'
The competition was judged by Into the Unknown curator, Patrick Gyger; as well as Barbican buyer, Margaus Soland; freelance illustrator and animator Tom Clohsy Cole; Wrap editor, Polly Glass; and Wrap Creative Director, Chris Harrison. BloodBros won the overall competition, with the judges commenting, 'This is a really exciting response to the brief. It probes our visions of the future with exciting imaginations of organic lifeforms and oozes fun. When I first saw this print I was struck by its visual power and when I started reading about the concept behind it I was all the more impressed. This entry was the most well rounded and accomplished, a truly inventive take on the theme.'
You can see the exhibition from 3 June – 1 September 2017, and the prints will be available to buy in the Barbican store.
Well done Emile, we are very proud!
View BloodBros full portfolio here (represented by Debut Art)